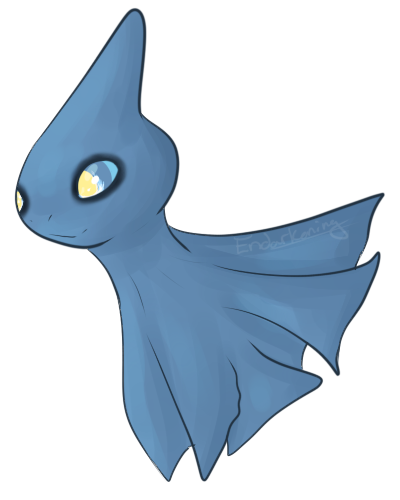 Name: Douglas
Text Color: #4D4D85
Item: None
Gender: Male
Age: Teen
Species: #353/Shuppet, the Puppet Pokemon
Height: 2 ft.
Weight: 5.1 lbs.
Pokedex Entry: It loves vengeful emotions and hangs in rows under the eaves of houses where vengeful people live.
Level: 22
Ability: Insomnia
Nature: Quirky
Characteristic: Quick tempered
Moves:
-Faint Attack
-Confuse Ray (egg move)
-Psychic (TM 29)
-Shadow Ball (TM 30)
History: Before Douglas was born, he had a mother Banette and a father Dusknoir. However, one night the mother left the home and never came back. The father was heartbroken that the one he truely loved was gone. He made a promise to raise their soon-to-be newborn child like his love would. As soon as he made the vow, the egg hatched, and out of the egg came a male Shuppet. Since it was night time and they were by a river, the Dusknoir named the Shuppet Douglas, meaning 'flowing from the dark river'.
The father, named John, treated Douglas kindly. The two were like, well, father and son. The two were inseparable. John's kindness rubbed off on his son a bit, and the Shuppet made new friends. As time passed, he spent less time with his father and more time with his friends. He would sometimes leave with his friends for long periods of time without telling John, which worried the Dusknoir to no end. One day, Douglas never came back home. The Dusknoir became depressed, just like when his wife disappeared. He thought his son and his wife were both dead.
What really happened to Doug was that while he was out with his friends, a trainer came by. All of his friends ran away, leaving Doug behind. The trainer saw the Shuppet, who was scared from being left alone like that. The trainer, thinking the Shuppet had no family, invited Doug to come with him. Curious as he was, Doug nodded and went with him.
The trainer, named Robert, was the lead singer of a gothic band. He had a fascination with psychic, ghost, and dark pokemon. While staying with him, Doug learned how to read. Though he didn't master it entirely, he got the basics of it, which is enough to satisfy Robert. Robert also taught the Shuppet how to sing. When he wasn't teaching Doug about music and reading, he battled with him. To help with the battles, Robert gave him two TMs; Psychic and Shadow Ball.
During a double battle one day, Doug was sent out and he was shocked to see who he was up against. Two trainers; who had a female Banette and a male Dusknoir. He recognized the Dusknoir as his father and the two were reunited. When the Banette spoke to John, he knew who it was. The Dusknoir introduced Doug to the Banette, his mother. The trainers, feeling bad for separating a family like this, called off the battle and released them back into the wild.
When they were in the wild, the infection hit the family hard. Both of Doug's parents were fighting to keep their child safe. He wanted them to stop because he knew that sooner or later, it would end up killing the two. It did. An undead Mightyena came and killed the parents. Out of an intense combination of fear, sadness, and anger, Doug fought back and killed the Mightyena with a well placed Shadow Ball. When the deed was done, his parents had faded away, a sign in the world of ghosts as moving on. Douglas had changed from that moment on, realizing how dark the world really is in times like these, and the naive side of him was gone forever.
Appearance: Douglas is a normal looking Shuppet.
Personality: Douglas likes to make friends. He loves to sing and tell stories and jokes to others. He is slightly paranoid about others if they look suspicious. He also isn't afraid to try new things, because he knows that in time, he will grow to like them.
User Notes:
-Doug's trainer, Robert, is inspired by Robert Smith of The Cure.
Last edited by Radiohead97 on Sat Oct 13, 2012 6:43 am; edited 2 times in total