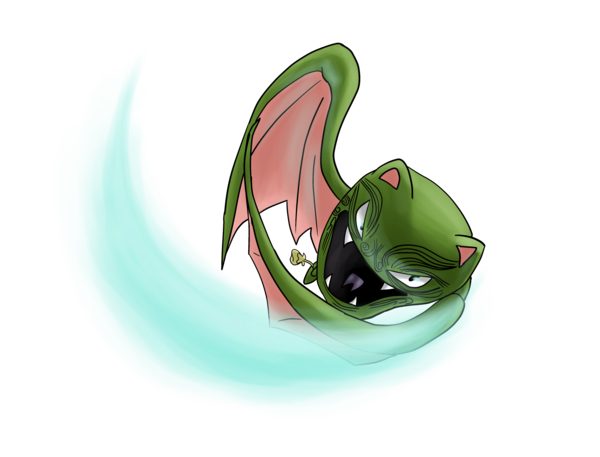 Name-
Ponamu (Greenstone)
Gender-
Male
Level-
45
Moves-
Air Slash (Learnt at a lower level as a Zubat)
Hypnosis (Learnt from Noctowl Father)
Poison Fang (Learnt)
Confuse Ray (Learnt)
Ability-
Inner Focus
Nature-
Adamant
Characteristics-
Proud of it's power
National Dex No./Species-
#42, Golbat, The Bat pokemon
Height-
1.6M
Weight-
55Kg
Pokédex Entry-
It clamps down on its prey with needle-sharp fangs and drains over 10 ounces of blood in one gulp.
Item-
Bright Powder
History-
Kia Ora,
Ko Anne toku waka,
Ko Acuity toku roto,
Ko Coronet toku maunga,
Ko Zubat toku iwi,
Ko Golbat toku Hapu,
Ko Pounamu te rangatira,
Ko Mere toku papa,
Ko Pekapeka toku mama,
Ko Anne toku waka
Ko Pounamu ahau,

Greetings,
The SS Anne is the ship (canoe) that bought us to this land.
Lake Acutiy is my lake,
Mt Coronet is my mountain,
Zubat is my evolution line,
Golbat is my family,
Pounamu is my tribe's cheif,
Mere is my father,
Pekapeka is my mother,
Lake Acutiy is my lake,
My name is Pounamu,
Ponamu was born a warrior in the tribe of Zubats that inhabit Victory Road in Sinnoh. Originally migrating from Johto Ponamu's ancestors settled in the mountain long before there was any Pokemon League at all and fought with the local inhabitants to settle a place in the vast caves.
Over time the pokemon league was formed and as trainers and their loyal pokemon partners began to fight their way through to the Elite Four the tribe grew stronger.
The trainers disturbed their peace but there were great battles to be fought and much mana (respect/power) to be gained by fighting them.
Even if a bold young golbat warrior was defeated there was honor in battling the strange strong new pokemon that came into their territory and there always brother to take their place.
Pounamu was born to the cheif of the Victory Road tribe, a rogue Noctowl who took the name of Mere (war club) and his third wife Pekapeka (bat). He was born with skin of shining green like the precious greenstone that was sometimes found imbedded in the cavern walls.
As a zubat he was bold and daring, watching his elders battle and keen to join in the fray.
Through his constant battles and brave spirit he eventually learnt a powerful attack under his father's tutuion; Air Slash
When he evolved he finally got to battle trainer's pokemon.
His different coloring made him a prize and he delighted in eluding trainers grasps, confusing and putting to sleep the trainers pokemon before batting away their attempts to catch him.
When his father, old and weak, eventually passed away from disease Pounamu stepped up to replace him and lead his people.
Then one day the people stopped coming.
There were no more battles to fight, no more daring victories to be snatched from the jaws of defeat.
They were the best, the strongest of all the zubat line tribes yet there was no-one to challenge them.
Slowly they started to starve as the other cavedwellers left or succumbed to some strange disease.
There was no more of the tapu (sacred) blood to drink.
Pounamu made a desision, he would lead his people to a new cave and a new food source.
The shiny golbat knew nothing of the infection.
A small cave, barely a dent in the underground offered protection to the tribe as they migrated across the reigon. Their cheif had no way of knowing an infected onix had sheltered beneath this depression and was roused by the scent of fresh, warm bodies.
Pounamu left for a moment to scout and returned to see the last of his best warriors in shreds.
A leader without any followers the golbat was forced to flee from the battle he could not win.
With a stalagmite from the cave hidden in the pouch of shining dust a trainer had carelessly dropped Pounamu swore utu (revenge/karmic retribution) against all infected.
He would destroy them all and regain his mana even if it cost his life...
User Note-
Based on a traditional Maori Cheiftan, in particular Hongi Hika of Nga Puhi tribe, the mihi is a loose translation. He has a moko (face tattoo) formed by scarring the skin into depressions and filling them with green ink. It's complexity is a sign of his status.
Pounamu often greets other living with a show of agression (haka), both to show his fighting strength and to test their resolve.