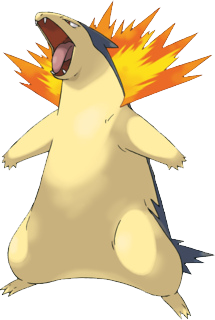 Ecruteak City| Late Afternoon (17)
Blaze reconized the bottle that Chivarly gave to her and scrunched up her nose though her eyes seemed amused. She remembered her first experince around alchohol and it was one she would always hold over her head and always chuckle at.
But she knew it could be of use so made no protest when the gallade put it in the bag. Extra flames could be useful.
Delia asked about who was going to carry the bag, Blaze looked over the bag.
"We'll I think out of all of us probably, Chivarly and I are going to have to carry it." Blaze said, the bag had been made for humans and chivarly had the most humanoid shape and Blaze knew how to adjust the bag so she could carry it but Koin and Rin where not big enough to carry the bag and unless she evolved soon Delie was smaller then the bag.
"And if one of us become's infected... then I geuss we're going to have to get it back." Her voice didn't falter, she seemed to understand the reality of having to kill.
Last edited by Echocave on Mon Sep 19, 2011 2:57 pm; edited 1 time in total