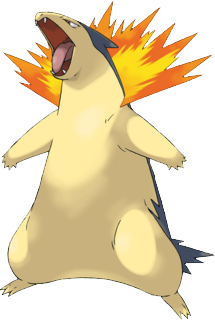 Within Mt.Mortar| Late Morning (11)
And with that little paw rising Blaze laughed. She reconized the dodging of the question but for now she'd play naive about it. And if the zoura crossed over the line it would be her own funeral.
"No there's no need. Spikes are hard to eat through I've tried before." She streched her mouth out at the memory. Behind her she could hear Koin moving, she hoped he hadn't heard that, poor guy was already terrified of Delia. Blaze didn't want him imagining her trying to eat him. "And in the end the meat inside isn't worth it." she snorted. "I much prefer flyers and fish" Memories of Akira fishing up magikarp and feeding them to Blaze aroused.
Blaze glanced down at Delia. Like the little zoura she was a hunter and liked meat but unlike her she didn't relish in it. Either way it was something they had in common.
"When would you like to start training?" She asked.
Last edited by Echocave on Mon Sep 19, 2011 2:47 pm; edited 2 times in total (Reason for editing : Image and location not centered)