Spirit


Color Code
Dark Red
Gender
Male
Age
Adult (24)
Species
Absol, #359, Disaster Pokémon


Height
3'11"
Weight
103.6 Lbs.


Level
42
Ability
Super Luck: Raises the critical-hit ratio of moves; allows simultaneous use of Dire Hit and Focus Energy.
Nature
Modest (Special Attack + | Attack -)
Characteristic
Strong Willed and (Special Defense +)


Pokédex Entry-
Rumored to sense disasters with its horn, it became a target. It fled deep into the mountains.
Item-
Black Glasses
Moves-


Razor Wind (Learned)

Swords Dance (Learned)

Aerial Ace (TM)

Flamethrower (TM)

---
---
History-
Spirit was like any other wild Absol. Humans were afraid when they saw him believing that he is warning of an upcoming disaster, all but one human that is. This human's name was Riley and Riley had a fascination of Dark Type Pokemon and had always wanted to catch an Absol. So when he saw Spirit he challenged the Absol to a battle. Spirit accepted the challenge and was ready to battle against Riley's Houndoom. He was fascinated with the trainer who wasn't afraid of him and wanted to see if the trainer was worthy to have Spirit on his team. Riley got his Houndoom, who Spirit later on learned was name Shadow, to use Flamethrower on Spirit while Spirit used Swords Dance. The battle last for hours with each Pokemon getting hit by attacks ever now and again. Spirit wasn't willing to give up the battle so every time he went down he just got back up to attack again until finally he couldn't build the strength to continue on and fell for the final time before he was captured by Riley.
Riley was really impress by how strong willed the Absol was so had decided to call him the name he was now known by, Spirit. As they traveled together, with Spirit staying out of his Pokeball, Riley realized that he was a modest Absol especially after he first started to use Spirit in battle because the Absol had used his powerful attack he had at that time, Razor Wind, and he never used it in his battle against Riley and Shadow. He had only used Quick Attack, Pursuit, and Swords Dance at that time. He had become very impress with his new friend that he bought some Black Glasses for Spirit to have so he could hide his modesty when it shows in his eyes. Eventually Spirit had learned to hide his modesty without the use of the Black Glasses and now just wears them on top of his head like sunglasses. As they journeyed together he taught Spirit how to use Aerial Ace to help out against the Fighting Type Pokemon they came upon and Flamethrower against the Bug Type Pokemon they came upon in their journey. One of Spirit's teammates was a Vaporeon who he grew quiet protective of being as she was the only female on the team. Her name was Annick and the two of them worked together in battles when they had to fight in double battles.
The friends came to Johto a few days before the epidemic hit and got in a harsh battle with a rocket that wanted to take Spirit. Spirit fought his hardest in this battle but his opponent's Tyranitar was a really tough battle and one of the Tyranitar's attacks, Thrash, caused its claws to go across his left eye causing Spirit to cry out in pay and close that eye from the pain and prevent the blood from the wound to enter his eye. His strong will kick in again and though he wasn't able to see 100% at the moment he was still able to see with his right eye and used a powerful Aerial Ace on it which apparently was enough to finish the battle and cause the Rocket to leave, leaving his Tyranitar behind. Riley took pity on the injured and now abandoned Tyranitar and got it to the nearest Pokecenter so he could heal. He was worried about his Absol friend and had the nurse look at the wound. To everyone's relief the nurse was able to clean the wound and that Spirit will be able to see out of it again after it healed some, but she also said that it will leave a permanent scar over the eye. Spirit and Riley both didn't care about the scar that was going to be there. They were just glad that Spirit will still be able to see through it after it heals.
The Tyranitar regretted what he did to Spirit so the Dark dragon-like Pokemon decided to join the team. But on the day that Spirit's wound healed and left a scar like the nurse said the epidemic hit. Spirit was blame for this disaster but Riley defended him saying that even though Spirit is known as the Disaster Pokemon it didn't mean that he caused the disaster. He had proof of these because he had been with Spirit for about a year now and hadn't had anything bad happen to him. With this proof the humans left Spirit alone but they fled Johto. On one of the days after the epidemic hit, the humans that had remain, were attacked by once peaceful Pokemon. The Pokemon had red eyes, skin falling off their bodies, and their wounds continued to ooze blood. This force the humans left alive to flee to the nearest boat which caused Spirit to get separated from Riley and the others. When things calm down Spirit went to search for his friend but never was able to find him. All he could do is hope that his friend was able to get away before he was killed. When he came to this conclusion Spirit began his search for his friend hoping that he would find a way to rejoin him.
Appearance-
Spirit is just a normal Absol with a scar over his left eye and black glasses on his head.
Personality-
Spirit is very brave and very loyal to his friends and he will do whatever he can to keep them safe from harm even at the risk of his own life.
---
---
User Notes-


Spirit only uses Flamethrower as a last resort normally, especially when he is protecting someone he cares about.


He is always seen with his Black Glasses on his head like Sunglasses and will only wear them when he has to so he won't lose them.


He cares about his friends and he is still searching for Riley and his other teammates.


___________________________
(Temp Image)
Annick


Color Code
#BD62D5
Gender
Female
Age
Late Teens (19)
Species
Vaporeon, #134, Bubble Jet Pokémon


Height
3'03"
Weight
63.9 Lbs.


Level
37
Ability
Water Absorb: The Pokémon heals up to 1/4 of it's maximum Hit Points when hit with Water-type moves.
Nature
Calm (Special Defense + | Attack -)
Characteristic
Alert to Sounds (Speed +)


Pokédex Entry-
Its cell composition is similar to water molecules. As a result, it can't be seen when it melts away into water.
Item-
Mystic Water and NeverMeltIce
Moves-


Aurora Beam (Learned)

Water Gun (Learned)

Shadow Ball (TM)

Ice Beam (TM)

---
---
History-
Annick was given to her trainer, Riley, when she was just a young Eevee. She was picked out of all of her brothers and sisters and had been excited to have her own trainer. You see Annick was the youngest of her siblings but she was older then the newest siblings that were about to be born between her parents who were a Glaceon and a Vaporeon. She was born in a daycare in the Johto Region and for some reason she was born with a maroon crescent moon on her left hip. Before Riley came her two youngest siblings had finally hatched into twin Eevee's but her brother had a full moon on his forehead and her sister had a half moon on her forehead. She didn't understand why she and her twin siblings were born with these unique birthmarks but she didn't worry about it too much since her parents love her and them just the same. She left with Riley before she could watch how her twin siblings will act but she figured that one day she will see them again someday. As she traveled with Riley her gaze always went to water when she could see it. She always wanted to become a Vaporeon just like her father and hopes that she could somehow tell Riley, when he decides to evolve her, which one she would like to evolve into.
One day Riley came upon a store that was selling evolution stone and had called Annick out to ask her what she wanted to evolve into. Right when Annick saw the Water Stone she pointed at it with her paw while her fluffy tail wagged in joy. Getting the message, Riley smiled and bought the Water Stone before he brought it down to Annick's level and let her touch it. Once the young Eevee touch the stone a white glow surrounded her and she began to grow a bit bigger then she was already while her tail got longer and flattened out into a fin. Once the evolution was done where an Eevee once stood was now a beautiful Vaporeon. After her evolution Riley taught Annick two TM moves. One was Ice Beam, while the other was Shadow Ball. Riley had smiled and said that he had thought he would have evolve her into an Umbreon since he was fascinated with dark type Pokemon but he wanted Annick to be happy so he didn't mind having her evolve into a different evolution then he wanted her to be. He then began to train her well until he heard the stories of a powerful Absol that has defeated every trainer that had even attempt to capture it.
Fascinated by this Absol Riley went after it himself. When he found the Absol he had decided not to use Annick and instead use his Houndoom Shadow. After a hard and long battle Riley had been able to capture the Absol and had named him Spirit. After the capture Riley used Spirit and Annick together in battles so that Spirit could learn teamwork with others. As Annick and Spirit work together and became an unbeatable team Riley decided to buy Black Glasses for Spirit, to hide his modest gaze, and he bought a Mystic Water and NeverMeltIce for Annick so that her attacks will gain an extra boost when she battles. When they were in double battles Spirit always made sure to keep Annick safe, especially when she was defenseless for a few moments, and will continue to protect her until he was sure she could battle on her own once more. One day Spirit had to battle against a tough Tyranitar. The Tyranitar had been force to battle against Spirit because the Rocket that was his trainer wanted to take the Absol away from Riley. He even had slash at Spirit's eye to cause him to have a permanent scar there. Annick watch with baited breath as her friend was able to defeat the Tyranitar before Riley rush him to the Pokemon Center. After Spirit was healed is when the epidemic finally struck where they were staying.
Riley had been force to release Annick and the rest of the team before he was taken away by the frighten crowd of trainers that were rushing for the ferries. Annick realized that Spirit was with them so told the team to survive and hope that they will meet again. The Vaporeon then rush to search for her dear friend who she was beginning to see as a brother since she has miss her family.
Appearance-
Annick is a normal Vaporeon except for the maroon crescent moon on her left hip.
Personality-
Annick is very calm and collected when it comes to battles and does her best to help out her friends. She is protective of those that she cares about and is willing to try her best to keep them safe.
---
---
User Notes-


Her name means Gracious, Merciful in French.


She still has the Mystic Water and NeverMeltIce on her neck that Riley had given her to wear as a necklace.


She cares about her friends and she is still searching for Riley as well as Spirit.


(Spirit is already approve I'm just turning him into a Dual Profile with Annick)
Their combine Image: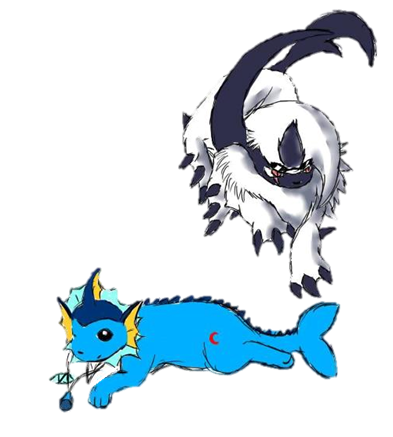 (Temp Image)
Last edited by SapphireSilve on Fri Sep 14, 2012 6:44 pm; edited 6 times in total