Staff
Founding Admin
Founding Admin
Profile Admin
Harb Mgt. Admin
Harb & Shop Mgt. Admin
Background art was made by Fox. The Banner was made by Silverishness. Show them some love, yeah?

Pokemon © Nintendo
EpidemicJohto © 2011
All names, characters, plotline and artwork are under copyright protection of Epidemic Johto and their respective owners.
No distribution or reproduction without express permission is permitted.



Support our staff!


Storm's Sketchbook

ShadowCharizard

Centurion





Age

: 35


Posts

: 1462

OMG Dara you return to EJ this calls for a hurrah :)

Storm

Rookie





Age

: 28


Posts

: 566

Before my disappearance I posted a picture here labeled Houndtorch, but I didn't have much on it then, but now I do, and so I've gone back to revise it. It's design has changed, as seen in the sketch, and I actually have information on it now as well.
Houndtorch isn't a dark fire type like it's pre-evolution of Houndoom and Houndour, but rather a ghost and fire type. I've been calling it the 'ghost hound' pokemon. I understand if it doesn't look very, ghostly, though. It would evolve by dying while consumed by flames. ex, die while in a burning building or a forest fire, or it's body burned less then an hour after the houndoom has died.
I tried to make it resemble Cerberus in a way, but without giving it three heads, and still staying true to the original hound design.
Probably wont suggest this when it's done, mostly cause I'm no longer an PA, which is my own fault for losing most likely, and I don't think anyone would take and suggest it as there is already a houndoom evo that is already well made.

Storm

Rookie





Age

: 28


Posts

: 566

Concept sketches of my Noivern evo, Noigon.

Storm

Rookie





Age

: 28


Posts

: 566

I got an idea for a wolf pokemon, that, explodes.... :I
Yeah...
Anyway, I got an interesting design for it, and deciding to share it here and see what you guys think of it. It's a three stage pokemon, the final looking more like a werewolf.
These guys have a new ability unique to them called Douse, what is does is it leaves the user at 1HP when using moves like Explosion or Self Destruct.
They are a Dark/Fire type, and when using fire type moves, the tip of their tail catches fire, like a fuse to a bomb.
They have a new move called bomb barrage, where they throw 2 to 5 bombs at their opponent, much like fury swipes or bullet seed.
Flipup
, the Flint Puppy Pokemon.
Alone this pokemon is seemingly harmless, but when in a group it is best to avoid.
Bomolf
, the Bomb Wolf Pokemon.
This Pokemon moves around mostly on all fours, but is known to stand on it's hind legs at times. It's believed it is getting ready to evolve when it starts doing this more often.
Wereplosion
, Demolition Pokemon
This Pokemon is most commently found in old demolished buildings. it finds joy in watching huge explotions, espessialy when it's the one that caused it.

Storm

Rookie





Age

: 28


Posts

: 566

Pokemon who's design was inspired by Plague Doctors.
It is still a HEAVY WIP, but I figured I'd share what I have here.
Design is simple, which I like.
First stage doesn't yet have a name yet.
Second Stage is called Plator. Plague Doctor put together.
They are Dark/Psychic Type.
First stage is, the Young Doctor Pokemon
First Stages Dex entry: This pokemon uses it's talons and beak to help grind herbs into special healing powder. This powder has a small chance of working.
Second stage is, the Plague Doctor Pokemon.
Second Stages Dex entry: It has a special sac in it's beak that it uses to break down the herbs it's collected into various medicine. Depending on the herbs used depends on what kind of medicine it will produce.
Their Abilities are:
Early Bird: SLEEP conditions lasts for half as long, rounding down. For example, half of three turns is 1.5, which rounds down to one turn. When the number of turns to sleep is one, half of this rounded down is zero, and the Pokémon wakes up instantly.
Natural Cure: The Pokémon's status (BURN, PARALYZE, SLEEP, POISON, FREEZE) is healed when withdrawn from battle.
Hidden: Healer: At the end of the turn, there is a 30% chance of either Ally being healed from a status condition.
First Stage Info
- A rare sight due to their kind being hunted to near extinction a long time ago, and unable to really get their numbers back up, only a few of them are left in the world.
- They are very curious and tend to flock into trees near trainers and people to watch what they're doing.
- They are very commonly found around hospitals and pokemon centers.
Second Stage Info
- Back when the Black Plague was around, this pokemon was continuously hunted to near extinction due to people believing that cooking and eating it would help cure them of the plague, while others saw them as a carrier and killed them to stop it from spreading.
- They do their best to avoid populated areas, and so when humans move into their land, they either watch them carefully to see if they will leave or not, or leave themselves if it appears the humans are there to stay.
- They can carry herbs in their medicine pouch for days without it going bad, but tend not to carry in the sack at all and rather keep them in their nest until consumption is needed.
- The glare from their eyes makes them appear round in the dark.

Storm

Rookie





Age

: 28


Posts

: 566

I might actually suggest this one in the Fakemon area once I have all the info down for it.
It's a male evolution for Buneary if it wasn't already obvious.

Storm

Rookie





Age

: 28


Posts

: 566

I've had smeargle in my head for the last week ever since I started playing my Ultra Moon version that thoughts for how an evolution for it might look also started to mingle in my mind to where I could take it and just did a rough draw and colour of it. Might suggest it as a site fakemon, already have ideas for it's information and such, but I can't be to sure yet. Sure I'm not the only one who's thought of smeargle looking like this when it evolves either.

Storm

Rookie





Age

: 28


Posts

: 566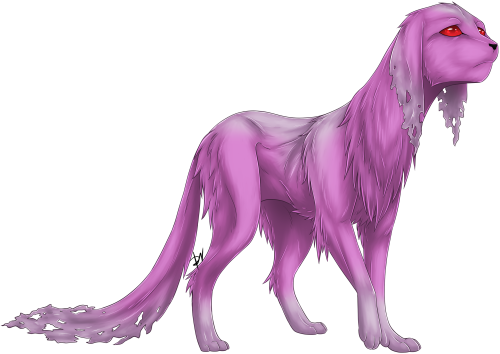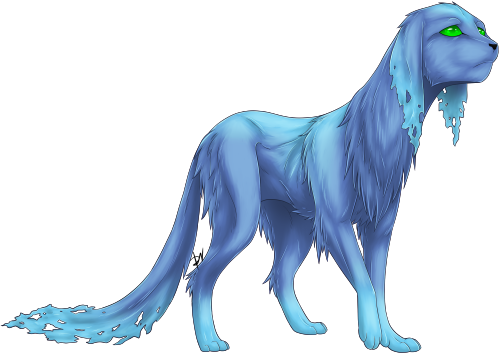 Radeon redrawn. Design's still the same, only difference is art style.

Storm

Rookie





Age

: 28


Posts

: 566

Site already has a steel type eeveelution, so just going to share mine here.
It's called Mireon, the Mirror Pokemon.
Normal
Shiny