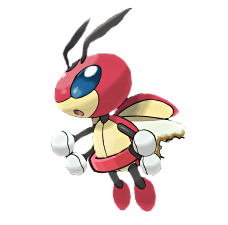 Name-Lia
Gender-Female
Level-43
Moves-
Swift
Silver Wind
Double Team
Safeguard
Ability-Swarm
Nature-Gentle
Characteristics-Capable of taking hits
National Dex No./Species- #166 Ledian/The Five Star Pokemon
Height-4'09"
Weight-78.5lbs
Pokédex Entry-The spots on the Ledian's back are said to respond to the stars in the night sky.
Item-Focus Slash
History-
Lia was a happy Ledyba growing up. Her parents loved her, she had plenty of friends, everything was great. Shortly after she evolved into a Ledian, things went wrong. Lia's house and parents were burnt to ashes by an infected Typhlosion. Lia managed to escape, but she has a nasty burn on her left wing.
The burn is still there, and she's very defensive over it. She's become very careful and gentle, and it's hard to earn her trust. She can be very sweet if you get on her good side.
User Note
-She will be very protective once you befriend her.
-She is very loyal, and will obey any order