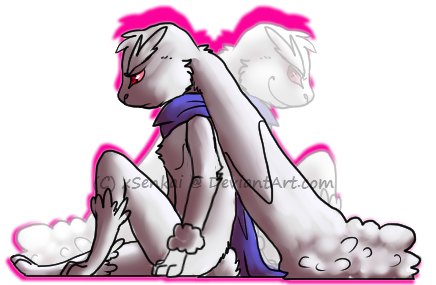 Pyry


Text Color
#6250be

Item
Blue Scarf: A lovely blue shaded scarf that increases the beauty of the pokemon holding it.
Gender
Male
Age
Adult (Human equivalent to 22)
Species
#428, Lopunny the Rabbit Pokémon


Height
3'11"/1.2m
Weight
73.4lbs/33.3kg
Pokédex Entry
It is very conscious of its looks and never fails to groom its ears. It runs with sprightly jumps.


Level
45
Ability
Cute Charm: When a Pokémon with Cute Charm is hit by a move that makes contact, there is a 30% chance that the opponent of the opposite gender will become infatuated, making it unable to attack 50% of the time.
Nature
Docile
Characteristic
Very finicky


Moves

-Ice Punch  [Breed]
-Fire Punch  [Breed]
-Quick Attack  [Lv.]
-Double Team  [TM]





History
When Pyry hatched from his egg, he had been very weak.  He had to stay in the Pokemon Center for a full month before his condition stabilized enough to be released.  But that was only the beginning.  To begin with his fur color had been fairly light brown and tan for a Buneary.  But during the time when he was in the center, his fur had started to grow paler, and paler, and paler, until finally there was no pigment left.  His fur turned a snow white and when he opened his eyes for the first time, they were a deep blood red.

Because of his alien appearance and weak body Pyry's trainer loathe the rabbit, and it wasn't uncommon for the poor Buneary to be seen at a Pokemon Center after a brutal beating or training.  It wasn't until six years later when the party was passing through a local festival did Pyry run into the human that would become his new trainer.  Pyry had fled after being called out to battle a terrifying Lucario, getting lost in the crowd and winding up at the annual Pokemon Contest event. It was there a male trainer going by the name of Allen who was participating in the event, found the lost Buneary and helped track down his trainer.  Pyry didn't want to leave Allen and clung to the boy when the other trainer tried to take him back.

This led to another brutal training session later that night.  He was left unconscious in the forest where they had camped for the night, the pokemon's pokeball shattered in two.  It was by chance that Allen had been passing that way the next morning and came across Pyry's battered body and rushed him to the Pokemon Center.  Seeing how the rabbit had been abandoned, the boy took the Buneary in and trained him in the field of contests.  Many wonderful years went by after that, and Pyry's heal improved though his fur remained white.  With a loving and caring trainer, the Buneary evolved into a Lopunny.  It was during this time that he received the blue scarf from Allen.  It was a gift to symbolize their friendship, and for something Pyry could wear in contests.  The other pokemon of his team, a Blaziken and Milotic, both congratulated the rabbit warmly, and were all happy for him.  That was the best day of Pyry's life, and he wished that it would never end.  But sadly it came more quickly, and more gruesome that he could ever imagine..

He had been sent to gather firewood as the others set up camp when the first of the undead had attacked.  By the time he had made it back, Allen and his Blaziken were surrounded, the Milotic's body lying torn and lifeless on the ground in a pool of her own blood.  Pyry had made a motion to join his trainer and friend, but was ordered to run when Allen spotted him.  Pyry was going to ignore the order until he watched for a second time as his pokeball was broken in two.  The broken pokeball, the undead, and the death of his master and fellow teammates was to much for Pyry as he fled the scene, the images haunting his every move.  That's when his alternate personality started to surface. A way to protect himself from the horrors that he had witness and was continuing to witness around him as the epidemic spread like a wildfire.  He couldn't tell that 'Gale' was a figment of his imagination and only assumed that he was the spirit of another albino like him.  He took comfort in this knowledge and the fact that 'Gale' knew how to battle.  'His' presence helped ease the hole and pain that Pyry felt from the death around him, as well as the loss of Allen and his two pokemon comrades.

Appearance
Pyre is an albino Lopunny with red irises and pinkish scleras. He is always seen wearing his blue scarf and always keeps his fur clean.
Personality
Pyry is a cautious guy, always getting into a panic fit during the battle part of contests. Before the epidemic he use to be warm to everyone even if he was intimidated, but now he's suspicious. Normally he's a nervous ball of fluff, stuttering when he talks although it leases the more time spent with individual pokemon. The traumatic experience from witnessing his trainer and fellow pokemon die made him develop a different sona personality.  When he switches to 'Gale' he's a merciless fighter and becomes somewhat malevolence, stating that he's cleaning the ugliness of the new world by delivering beautiful death.  


User Notes
-believes Gale is the spirit of another albino Lopunny that only he can see and communicate with.
-When Gale takes over, Pyry moves his scarf which normally dangles on the right to the left.
-Gale normally talks Py into doing things.
-Secretly love to sing and dance.
-HATES getting dirty.



Last edited by xSenkai on Wed Aug 20, 2014 8:08 pm; edited 7 times in total