Image by Neoven8tr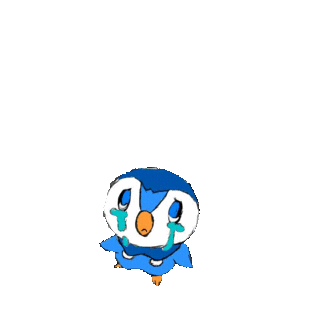 Image by Tyranno
Piplup


Item
None at present
Gender
Male
Age
Baby
Species
#393 Piplup, the Penguin Pokemon


Height
0'08" (not fully grown)
Weight
7.6lbs
Pokédex Entry
"A poor walker, it often falls down. However, its strong pride makes it puff up its chest without a care." (Black and White)


Level
2
Ability
Torrent (raises the power of Water-type moves when low on health)
Nature
Timid (+Speed, -Attack)
Characteristic
Highly curious (+Sp.Atk)


Moves
Pound
Aqua Ring (egg move)




History
Piplup was born in Sinnoh at the hands of an enthusiastic, amateur Breeder called Tom. For the first few weeks of his life he was cared for 24/7; all he had to do was to cry and he got what he wanted. Being far too young to start training, Piplup spent most of his days playing happily with the other young Pokemon that were in Tom's care and receiving all the attention and love he wanted.

He had barely started to adjust to this life when the Epidemic struck. Everything happened so quickly. All of a sudden Solaceon Town was attacked by large, aggressive Pokemon that he had never seen before. In desperation, Tom grabbed as many of the small Pokemon as he could, including Piplup, and fled the scene as their home was burned to the ground by a horde of undead Fire-types. While running, Tom tripped over a piece of rubble and dropped everyone. Piplup ran away without looking back, terrified of the fire and the savages running around their hometown. The last thing he heard as he left Solaceon were Tom's screams of pain as he was torn to pieces by an undead Charizard.

Confused, hungry and frightened, Piplup managed to crawl his way over to the next town, Hearthome, where he has remained for some time, looking for somebody new to take care of him.
Appearance
Very small, but otherwise his appearance is normal for that of a Piplup.
Personality
Being extremely young, Piplup is entirely dependent on others. He judges other Pokemon based on their appearance, actions and tone of voice, and once he picks somebody to be his carer, he will not stray too far from them. If he does not like someone he will cry if they get too close to him. He is easily scared and will seek comfort and protection from others. He is very needy and will cry loudly if his needs are not met. He's a curious little soul and likes to explore his surroundings when he can. He can be rather mischievous when in a good mood.


User Notes
-Father was an Azumarill.
-Can not speak at all as of yet, although he will sometimes try to repeat certain words that others say.
-He recognises certain words but the rest makes no sense to him.
-Very poor at walking and he often falls down. He prefers to crawl.
-He does not know how to use any of his moves.
-He is terrified of fire or anything that resembles it.


Last edited by Nightfall on Thu Apr 04, 2013 8:21 am; edited 4 times in total